The Authentic B&B Experience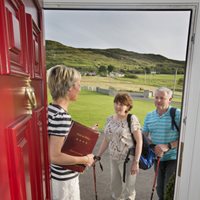 All B&B's listed on this website are Approved by the Tourist Board. The real Irish B&B experience is the opportunity to stay with an Irish family and immerse yourself in their Irish traditions and Culture. If you want to get the most out of a holiday/vacation to Ireland and meet the real people of the Emerald Isle, then you should consider staying in B&B accommodation where you will be greeted with the warmest of Irish welcomes.
Great Locations
You will find B&Bs in every village, town, city and countryside location in Ireland. They are great value for money, with a real home from home experience. The family you stay with love to welcome visitors into their home. You will be received like an old family friend and are guaranteed to enjoy one to one attention from your hosts.
Local Knowledge

Your hosts will have all the low down on what is going on in their area. Therefore, they can advise you on all the best places of interest to visit, sights to see, local restaurants to eat in and what pubs have the best traditional music and atmosphere.
Activity B&B Holidays
A unique advantage to a B&B holiday is that a vast majority of B&B Ireland's properties specialise in activity holiday breaks, such as walking, angling, adventure and golf. Staying in one of these homes is a great way of getting out into the Irish community, mixing with the locals and enjoying the stunning scenery and landscapes that make Ireland such a special holiday destination.
Band 1 – County Dublin, Northern Ireland and 5 star properties                                                 Low Season – January to May & October to December
Band 2 – Galway City and Killarney                                                                                                     High Season – June & September
Band 3 – All other locations                                                                                                                   Peak Season – July & August
Seasonal vouchers
Band 1
Band 2
Band 3
Single Ensuite Low Season
$115
$110
$105
Single Ensuite High Season
$120
$115
$110
Single Ensuite Peak Season
$125
$120
$115
Double Ensuite Low Season
$165
$155
$145
Double Ensuite High Season
$180
$170
$160
Double Ensuite Peak Season
$185
$175
$165
Triple Ensuite Low Season
$245
$230
$210
Triple Ensuite High Season
$270
$255
$235
Triple Ensuite Peak Season
$275
$260
$240
Child Ensuite
$55
$55
$55
Child rate applies to children from 2 to 12 years of age. Children under 2 are free; a fee may be applied locally for food. Due to health and safety regulations in Ireland, B&B homes are only permitted to accommodate children when sharing a room with adults.